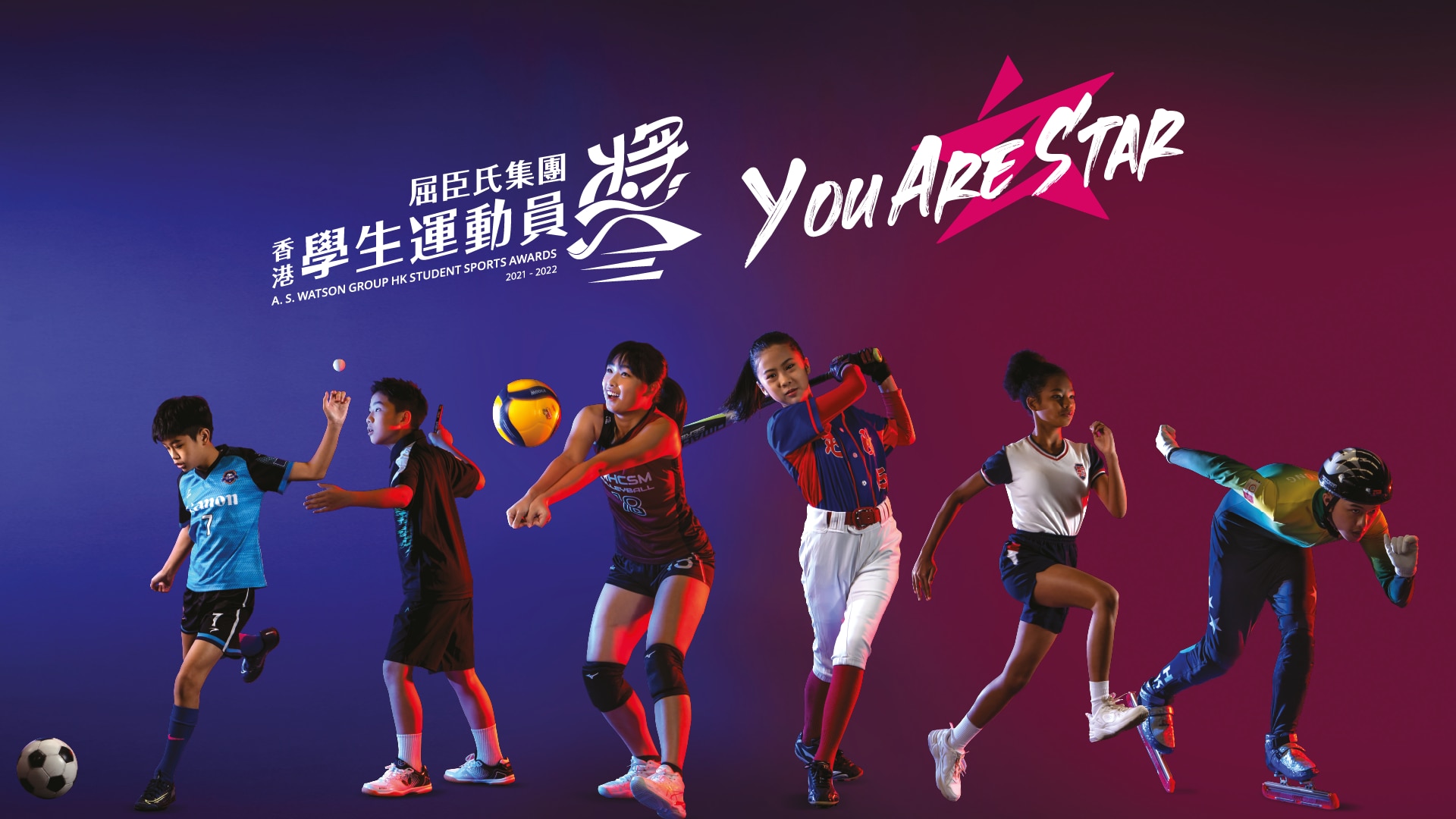 A.S. Watson Group Hong Kong Student Sports Awards Introduces NFT Certificate to Encourage Students to Follow their Dreams
2022-07-27
A.S. Watson Group Hong Kong Student Sports Awards (HKSSA) is themed as "YOU ARE STAR" to encourage young people to pursue their dreams. This year, HKSSA has arranged professional sports photographers to do a shooting for each awardee, in addition to the scholarship. The sports photo will be used to create an NFT certificate as a recognition of awardees' outstanding performance.
Malina Ngai, JP, CEO of A.S. Watson (Asia & Europe) and Honorary Advisor of HKSSA said, "Due to the pandemic, inter-school competitions have been suspended for almost three years, and student athletes have lost the opportunity to participate in training and competition, making it difficult for them to pursue their dreams. In order to encourage all student athletes to persevere in their dreams amid adversity, this year we have decided to commend our awardees in a unique way, encouraging them to stay positive, keep practicing, equip themselves, and get prepared for the resumption of inter-school competitions."
Unique Portrait NFT Certificate to Reward Students
During these difficult times, student athletes did not give up their dreams. Although competitions have been cancelled, they have been working very hard at training and cherish every opportunity given. This year, HKSSA is themed as "YOU ARE STAR" as we believe that every student athlete is stellar, shining bright in both Hong Kong and international sports arena and passing on the HKSSA's YES I CAN spirit to the next generation.
Each student deserves a unique and personalised certificate, and NFT (Non-Fungible Token) serves such a purpose. NFT is a non-interchangeable unit of data stored on a blockchain, which makes the NFT STARCERT created unique and irreplaceable. To personalise the NFT STARCERT certificates, professional photographers are arranged to take photos for each awardee, so that they can have the opportunity to showcase their sports talent and turn the photo into an NFT STARCERT certificate. Not only did the project bring awardees an unforgettable shooting experience, the NFT STARCERT certificate is also permanently stored so that students can remember the wonderful moments of winning the award. In addition, HKSSA has also selected some outstanding students and invited local artists to draw and design special edition NFT STARCERT certificates for them, recognising their efforts while supporting local artists.
HKSSA is honored to have invited local sports star to participate in the programme, encouraging students to continue to strive for their dreams. Daniel Chan, Tokyo Paralympic bronze medalist in wheelchair badminton supported table tennis student athlete Cheng Chung's special edition certificate, "HKSSA encouraged students YOU ARE STAR and to unleash their full potential, which is something that I greatly support. Therefore, I've participated right away when I was told about the NFT initiative. It can recognise and encourage student athletes, especially students with disabilities to overcome obstacles and shine like a sports star," Chan said. The NFT STARCERT certificates of this year's HKSSA awardees have been minted, please refer to: https://opensea.io/HKSSA
Supporting Sports Development & Nurturing Talents
HKSSA is the first and only sports award to recognise student athletes from all primary, secondary and special schools across Hong Kong. Each school can commend one elite sports talent every year. By rewarding these students for their outstanding performance, HKSSA is dedicated to promoting sports in schools and to nurture the next generation of sports stars.
HKSSA has gained overwhelming support from local schools over the past 17 years. This year, about 80% of schools participate in the programme representing a total of 850 student awards, bringing the total number of student awardees to over 14,000 since its launch. HKSSA organises different activities every year to encourage the awardees to dream big and pursue their dreams.
Ngai continues, "HKSSA is dedicated to promoting sports culture and sports development in Hong Kong. 100% of the creator earnings from NFT STARCERT will be donated to Elite Athlete Charitable Trust and Hong Kong Paralympic Committee to support local athletes. We hope to create a decentralised mutual-aid group and allow the public to recognise the student athletes and support local sports development in form of NFT. During the COVID-19 pandemic, we want to give more support and recognition than ever to the student athletes and let them know that their efforts would not be in vain. We hope they will continue to work hard and gear up for the next inter-school competition. All the hard work will pay off."